Why Join OfficiaNet?
OfficiaNet is a unique networking and business tool designed with genuine business needs in mind, which we see as the next stage in business networking, with tools to assist genuine interaction and collaboration. We view our mission as transforming and improving the way that companies do business, believing that technology should be harnessed to empower the betterment of all industry.
The way we do business is evolving. New technologies such as social networking, and collaboration through shared goals regardless of distances or locations transforms our perception of how we interact - this is the ethos and spirit of the internet.
In managing a business a diverse number of applications are utilised. These may include:
Customer Relations Management software
Project Management software
Business Continuity backup services
Business Networking services
Until now, these have existed in isolation. What OfficiaNet brings is a fully integrated, intuitive system that allows organisations to connect, collaborate and inspire community building for better business.
OfficiaNet is about people, people who do business. We believe that any business is only as strong as the relationships it forms, whether with members of staff, partners or clients.
Business Networking, a subgroup within the current Social Networking boom, is far from a new thing, indeed some have existed for over ten years, relatively unchanged.
The main focus of business networking websites is to build relationships, however for the most part few utilise these sites to cultivate their under-utilised networks. This is due, in no small part, to the lack of inbuilt facilities to develop these networks into something more than a mere list of names.
OfficiaNet is designed to take Business Networking to the next stage.

By signing up for the full version of OfficiaNet you will have access to a collection of added value business services designed to help companies, organisations and groups of all sizes to effectively define themselves, best utilise their information and promote and develop their work safe and secure within the support of the OfficiaNet environment.
The BusinessManager is designed to assist your organisation with a central resource detailing the most vital commodity in business, your customers.
With features key to Business Development Management and Customer Relations Management the BusinessManager provides you a central resource from where you can store and track the interaction of staff with clients and maintaining and building your essential Prospect and Client database.
The ProjectManager is designed to assist your organisation in the planning, organising, and managing of resources, for both in-house and collaborative project management.

Through the ProjectManager you can add Tasks and Activities and assign them to specific individuals (both members of staff and/or third party individuals can be added to the Project) and Project Documents can be uploaded to the site with shared access for all people involved.
The OfficeManager is designed to assist your organisation with day to day business, with control from a central source. Members of Staff can be added to the system, and their roles defined.
A web browser based email system allows for communication between staff members. A document management system will allow the uploading of company documentation to be securely stored electronically.
The MailManager service provides you with web-based access to any POP account. It is intended for temporary use while you are away from your main email client, providing a convenient interface to read, send or compose mail through any POP email account.
Should you be out of your office attending a meeting, away on holiday, or as a way of reducing business continuity risks should anything happen to the company's office or systems, the MailManger allows your business to continue communicating the lifeblood of any sustainable business venture.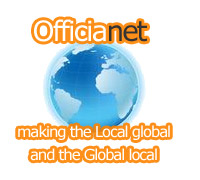 Business Networking
Our user-friendly system designed to build relationships, network, find new partners and open new markets
Anytime, Anywhere
Access your key data from anywhere at anytime - all you need is internet access and a web-browser