About Third Sector and Charities
The functionality of OfficiaNet provides people from diverse backgrounds with an opportunity to initiate, develop and expand the scope of their project ideas beyond anything that they thought possible. It is an essential 'must have' tool for anyone serious about developing their Business, Community or any venture that requires a strong network and access to others with the same aims and ideals.

The ability that OfficiNet provides to reach out and develop effective partnerships across sectors is groundbreaking and provides a foundation which places users in a position to take full advantage of the new approaches and structures being developed as 'Third Sector provision' in the UK.

The 'mastermind' potential to increase networking opportunities is worth the membership alone but that is merely touching the full potential of what OfficiaNet has to offer as it also incorporates a robust Project Management system that allows multi-users to pool resources and focus on individual tasks while keeping an overview of the wider development of the Project.

The real beauty of the system is that it has been developed to 'flow' with the user. A wide range of flexibility has been factored into the design and new features are continuously engineered as requests from users are received – a truly absorbing interactive world of business that brings together the thinkers and the doers to achieve maximum success.

With the policy shift from 'grant dependant' funding to 'sustainable business advice' the need for an extensive system that supports Project Management and cross-sector networking is paramount – and OfficiaNet, which had already been in development for some time, fit that niche perfectly.

The same facilities and opportunities previously open to those with political or high business experience needed to be made available for everybody. Most individuals, small businesses and groups working in the voluntary sector simply did not have the money or experience to put together complicated project bids or proposals that they would hope would catch the eye of a larger organisation or Government Department who might, just might, support their project with a cash injection.

This approach is totally unsatisfactory and many worthwhile projects last for a short time or do not get of the ground at all. The Social Entrepreneur and innovative thinkers became more and more frustrated and the flow of ideas cease lost in red-tape and bureaucracy.

That is why it became imperative that OfficiaNet was developed as an ethical project management platform targeted for release to the wider business community.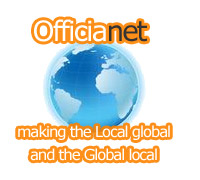 Business Networking
Our user-friendly system designed to build relationships, network, find new partners and open new markets
Anytime, Anywhere
Access your key data from anywhere at anytime - all you need is internet access and a web-browser